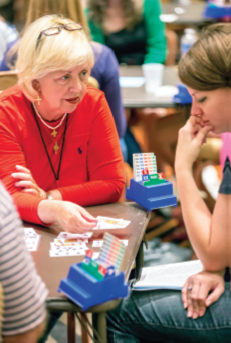 Learn Bridge in a Day!
Saturday, June 11, 10:00 am – 4:00 pm
Stapleton Center (lower level of the church building)
This event is now full!
Whether you are a beginner or returning to bridge, this class is the perfect place to start. Join us on Saturday, June 11 from 10:00 am to 4:00 pm in the Stapleton Center for this one-day session that will give you the skills to be a bridge player. Come with a friend – or make new ones! See why bridge is the world's most popular card game.
This 5 hour, interactive course is taught by Patty Tucker, ABTA Master Teacher, ACBL Trainer, Grand Life Master, and ACBL Hall of Fame inductee. The cost of $30 covers the playing mechanics of bridge and the first steps in bidding.  Refreshments and course material included.