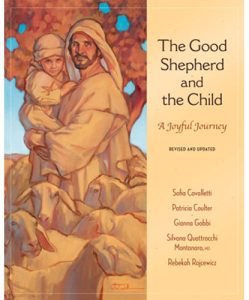 CANCELLED – WILL BE OFFERED FALL, 2022
Is the Good Shepherd calling you?
Parents and Grandparents, are you interested in growing in your faith? Would you like to be better equipped to share your faith with the children you love?  Catechesis of the Good Shepherd(CGS) may just be what you are searching for!
CGS is a Montessori-based method of religious formation that seeks to nurture the relationship between God and the child. In CGS it is the role of the catechist to nurture that relationship and facilitate the work of the Holy Spirit so that the child can fall more and more in love with God. In the process, the adults cannot help but be drawn in themselves by the tantalizing call of the Good Shepherd. CGS explores themes that appeal universally to not only children, but adults as well including liturgy, parables, and the history of the kingdom of God.
Come join us on a journey with the Good Shepherd as we explore this beautiful method of catechesis and receive fresh insights into our spiritual journey by reading and discussing the book, The Good Shepherd and Child: A Joyful Journey.