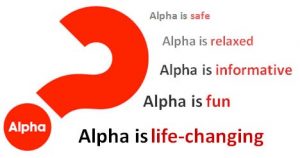 NEW ZOOM SESSION THIS SUMMER
Thursdays, June 4 – August 6
7:15 – 8:30 pm
Facilitated by Saint Jude Alpha members
No cost
Register here
Alpha is a place to explore life and the Christian faith freely in a friendly and informal environment. No question is out of bounds. Discuss as much or as little as you wish. Everyone over 18 is welcome. Whether Catholic, Christian, or of no faith, whether you are 18 or 88, whether you work, are retired, or somewhere in between… Alpha is for everyone.
Our summer session will be different !  Join with people from local churches but meet in a virtual small group with others from Saint Jude.  Each session includes a video and small group discussion.
Check out the video promo:
WHAT TO EXPECT:
Get Ready to Participate
The Alpha administrators will email out a link and instructions to all registered participants on how to join  the Zoom call. Sessions will run from 7:15 – 8: 30 pm on Thursday nights from June 4 – August 6.  Grab a glass of wine, a cup of coffee, or whatever you choose, and settle in for a little over an hour to explore your faith and engage with others.
Alpha Video
Each week's video is designed to engage and inspire conversation. Each video is approximately 30 minutes. They explore the big issues around faith and unpack the basics of Christianity, addressing questions like Who is Jesus?
How can I have faith?
Why and how do I pray?
Does God still heal today?
Discussion
Probably the most important part of any Alpha is the chance to share thoughts and ideas on the topic and simply discuss it together. There's no obligation to say anything and there's nothing you can't say (seriously). It's an opportunity to hear from others and contribute your own perspective in an honest, friendly and open environment. No question is too simple, and no answer is prepackaged.
Interested ?   Register Here
Questions?    Email us Here