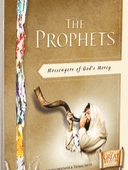 Learn how the prophets spoke not only to the people of Israel, but also speak to us directly. This study will discuss the three overarching themes of repentance, judgement, and hope within the messages of the prophets and show how they all point to Jesus. Sessions will include the books of Hosea, Isaiah, Jeremiah, Ezekiel, and other Old Testament prophets as well as a look at New Testament and modern prophets.
Thursdays – January 17 – March 4, 2019
7:00 pm – 9:00 pm
Spalding House
Facilitated by Nancy Nadolski and Kathie Torrance
 Program Fee: $25 + shipping cost for materials
Come and See Date – Thursday, January 3– 7:00 pm
REGISTER HERE 
Series that do not have 5 registered attendees one week before the start date will be cancelled.