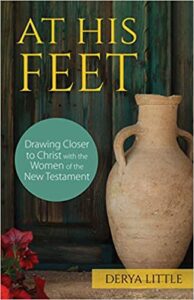 At His Feet 
Mondays, April 25 – August 8
Life Teen Room (Basement of Ministry Building)
Cost – $15 for book
Facilitated by Ann Sottile and Participants
As twenty-first-century women, it often seems that the challenges of our modern lives make it difficult to live an authentic friendship with Christ. The New Testament women featured in this study by Derya Little knew what it meant to struggle with the burdens of life. But when they encountered Jesus, their lives were changed forever.  Come join us as we meet these women through their stories and relate their conversion to our own.