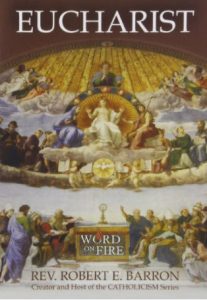 Join Bishop Robert Barron as he breaks open three important aspects of the Eucharist, the source and summit of our Christian life.   We will explore the Eucharist as Sacred Meal, Sacrifice, and Real Presence and dig into Catholic tradition, Scripture, and the Church's teaching on this inexhaustibly rich Sacrament. This is a perfect short 3 week series for summer! Renew and reinvigorate your dedication to Christ in the Eucharist!
Wednesdays: July 21-August 4
1:00 – 2:15 pm
VIA ZOOM
No Cost
Facilitated by Alix Shattuck– Master Catechist for the Archdiocese of Atlanta with a passion for teaching the Sacred Scriptures.