Women's Scripture Study Small Group
Join us for discussion, Prayer, & Community
All ages welcome!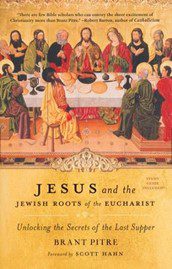 Jesus and the Jewish Roots of the Eucharist illuminates the Last Supper by looking at it through Jewish eyes. Using his in-depth knowledge of the Bible and ancient Judaism, Dr. Brant Pitre answers questions such as: What was the Passover like at the time of Jesus? What were the Jewish hopes for the Messiah? What was Jesus' purpose in instituting the Eucharist during the feast of Passover? And, most important of all, what did Jesus mean when he said, "This is my body… This is my blood"?
Mondays 6:30 – 8:00 pm – Beginning August 7th
Life Teen Room/Ministry Building
Cost of Book – $15