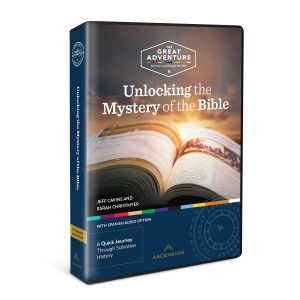 This class has been canceled due to low registration numbers. We apologize for any inconvenience.
Many Catholics want to read the Bible because they know it is God's Word, but they give up because it seems so complicated. Unlocking the Mystery of the Bible helps you get the "big picture" by showing how fourteen narrative books of the Bible tell the complete story from Adam and Eve to Christ and the Church. Presenter Jeff Cavins shows you how to read the Bible so that you can understand it and how you fit into God's plan.
Wednesdays, 7:00-8:30 pm
September 15th-November 3rd
Stapleton Center
Cost of Study Set $26.95
Facilitated by Alix Shattuck -– Master Catechist for the Archdiocese of Atlanta with a passion for teaching the Sacred Scriptures.