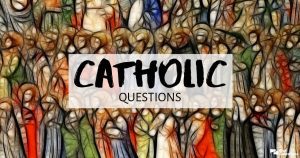 We all have questions in our challenging and changing world. Come explore the beautiful and timeless teachings of the Catholic Church to lead you in the way of true answers.
Each week is a stand-alone topic. No need to commit to a series and no registration is required. Choose the question that piques your interest. Come as your schedule allows. See below for topics and dates.
Facilitated by Jack Panosian – his faith journey has brought him from Atheist to Saint Jude Catechist. There is not a question you have that he has not already asked himself and found the true answer in the teachings of the Catholic Church.
What does the Church teach about same-sex marriage?
What do Catholics believe about the Sacrament of Marriage? What does the Church teach about homosexuality?
Thursday, September 16
7:00-8:30 pm
Stapleton Center

Why does a loving God allow evil and suffering?


Why do bad things happen to good people? Is suffering a punishment? What is meant by redemptive suffering? Should we just "offer it up"?
Thursday, September 30
7:00-8:30 pm
Stapleton Center
Facilitated by Jack Panosian and Ann Sottile

Does science contradict faith?


What does the Church believe about evolution? Are we all related to Adam and Eve? Is the Church against scientific and technological advancements?
Thursday, October 21
7:00-8:30 pm
Stapleton Center

Do all good people go to heaven?


If you died tonight, would you go to heaven? Is heaven reserved for Catholics? Where is proof of purgatory in Scripture? Is Hell real?
Thursday, November 4
7:00-8:30 pm
Stapleton Center