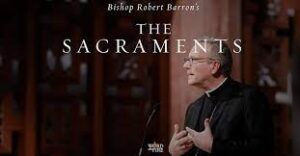 The Sacraments with Bishop Barron
Wednesdays 1:00 – 2:15 pm
September 28th – November 2nd
Room 233 Ministry Building
or
Thursdays 1:00 – 2:15 pm
September 29th – November 3rd Via Zoom
No Cost
The world, and people, constantly change – and not always for the better. God is determined not to leave us alone, subject to a barrage of negative change that would overwhelm us without His grace. This is what the sacraments are all about. The sacraments are true encounters with Christ. Everything in the Church's life comes from them and returns to them. Join us as we delve into the beauty and mystery of the sacraments with Bishop Barron and learn how the revolution of holiness depends on them.