Last fall, 324 parishioners formed 32 groups for our first small-group book study!
This Lent, we are presenting two book options.
New parishioners or those who were not able to participate last time –
we would love to have you join us!
Sign up to join an existing group or
Become a leader and create your own group
Register by February 5
For those who participated last fall – Thank you!
Continue with your group from last fall (no registration needed) or
Sign up to join a different group – Register by February 5
This Lenten study will begin mid-February (around Ash Wednesday, Feb. 22) and will conclude either before or just after Easter.
Both books are available on most online sites. The approximate cost is $15.00. Each group will choose from the books listed below.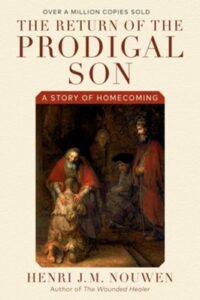 The Return of the Prodigal Son
By Henri J.M. Nouwen
A chance encounter with a reproduction of Rembrandt's Return of the Prodigal Son propelled Henri Nouwen on a spiritual journey that would help him understand the biblical parable as well as the story of his own life.
Take this opportunity to join Henri as he leads the wayward prodigal and judgmental sibling who resides within each of us towards the open-handed, overwhelming compassion and eternal love of the Father. The Return of the Prodigal Son will transform your reading of the parable and the way you understand your life story.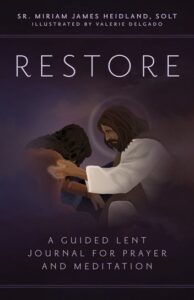 Restore : A Guided Lent Journal for Prayer and Meditation
By Sr. Miriam James Heildland, SOLT
In this beautiful guided journal for prayer and meditation, Sr. Miriam invites you to meet the tenderness of God's mercy, the power of His love, and the restoration of your heart and life.
Throughout Lent, you'll move through the four traditional Lenten practices of prayer, fasting, almsgiving, and sacrifice. If you enter into Lent with Christ, your heart will see more clearly, be pierced more easily, love more strongly, and serve more passionately. Companion videos are available.