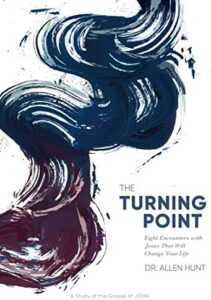 Turning Point: Encounters with Jesus in the Gospel of John
Wednesdays January 11 – March 8  Room 233 Ministry Building
OR
Thursdays January 12 – March 9 via Zoom
1:00 – 2:15 pm
Cost: $15 + shipping for book (optional)
Join Dr. Allen Hunt as he helps us encounter Jesus through the people and stories in the Gospel of John not found in the other Gospels, such as the Woman at the Well, Nicodemus, and the Woman caught in Adultery. By entering into their stories, we also encounter Jesus and move into a deeper relationship with Him that will transform our everyday lives. Each session includes a short video and discussion. Facilitated by Alix Shattuck.