"I came that you might have life, and have it abundantly." John 10:10
Walking with Purpose is more than a women's Bible study. It is a faith community that supports, encourages, and challenges one another. It is a safe place where you will discover authentic friendships and meaningful discussions as your heart is transformed by the Word of God.  God is ready and waiting for you to show up just as you are, and we have an open chair with your name on it!
Interested but not sure you want to join the study?  Join us for a Connect Coffee on Wednesday, January 25 in the Stapleton Center from 8:00 – 10:00 am as we watch the video and discuss the first topic in this series –  True Friendship and its Fruit.  Complimentary child care.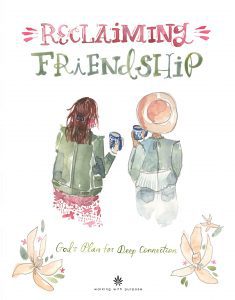 Walking with Purpose: Reclaiming Friendship
Wednesdays 8:00 – 10:00 am beginning Jan 25
Stapleton Center
Childcare provided
Cost of Book is $20

Do you desire lasting and abiding friendships? Do you want to move beyond the past hurts of relationships gone wrong? Reclaiming Friendship was written for any woman who wants a true and deep connection that lasts. 
Explore what it takes to stay close for the long haul, what to look for in a friend, and how to navigate toxic relationships. There is a way to protect your heart without closing yourself off from future intimacy. The key is found in discovering God's plan for friendship, which was meant to be a foretaste of Heaven.
In a world plagued by loneliness, you are invited to encounter God personally through Scripture. Let God reshape how you see and experience intentional relationships, deal with your past friendship wounds, and become a woman who is capable of the lifelong bond of true friendship.
January 25th–True Friendship and Its Fruit
February 1st–What is Friendship?
February 8th–The Barriers to Friendship
February 15th–Moving Past the Pain
March 1st–Becoming a Great Friend
March 8th–Friendship and the Kingdom of God