"I came that you might have life, and have it abundantly." John 10:10
Walking with Purpose is more than a women's Bible study. It is a faith community that supports, encourages, and challenges one another. It is a safe place where you will discover authentic friendships and meaningful discussions as your heart is transformed by the Word of God.  God is ready and waiting for you to show up just as you are, and we have an open chair with your name on it.!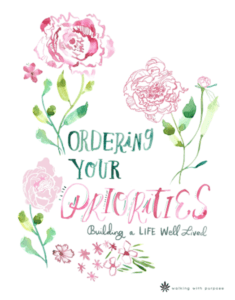 Walking with Purpose: Ordering Your Priorities
Wednesdays 8:00 – 10:00 am
Stapleton Center
Childcare provided
Cost of Book $20
Another glass of wine, just one more episode on Netflix, a little more scrolling on Instagram…Women are numbing out at ever-increasing rates. Why? What is it about our lives that make us feel so overwhelmed? What might change if we figured out how to build the lives that we like?
 Ordering Your Priorities: Building a Life Well Lived is an immensely practical Bible study that will help you put the most important things first. We'll begin by paying attention to the One who made us because He can best tell us what we need for our lives to run well.
September 14th—Building the Good Life
September 21st—Your Relationship with God
September 28th—Your Heart
October 5th—Your Marriage
October 19th—Your Children
October 26th—Your Home
November 2nd —The Outside World
November 9th—To the Heights