Sundays with Life Teen
See Fall 2019 Schedule of meetings
Have you registered for Life Teen yet?
 Life Teen Kickoff:  COLOR Wars!  
September 8th // 6-8 PM
Athletic Field
RSVP Requested
We are ready to kick off this new year in a BOLD and COLORFUL way! All youth are invited to come out for our annual and very popular COLOR WARS!
Teens will have the chance to be dusted, pelted, dumped, smeared, or blasted with color powder- just like the color powder that is used on Color Run or the Holi Festival in India.
There will be awesome games for teens to have fun and get colorful!  The powder is safe and will come off with soap and water.
Teens will get messy with color, so we ask that anyone participating wear a white shirt to see all the color (Color powder will come out in the wash.) Feel free to wear goggles as well!
There is no cost, but please RSVP HERE

---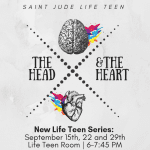 New Series: Head and Heart
September 15, 22, 29
6-8 PM | Life Teen Room 
This series focuses on loving and appreciating God, not just with our emotions (our heart) but with our minds. This series will give teens a new look on how the bible can help understand who God is and how He loves us so much!