Life Teen Summer Events 2021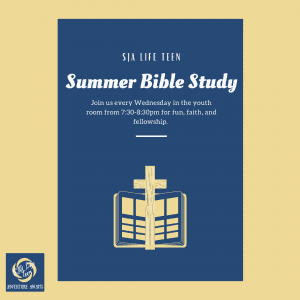 Wednesdays in June and July
Life Teen Room 7:30pm – 8:30pm
Summer Bible Study
Join us every Wednesday in the youth room for fun, faith, and fellowship. Each week we will eat junk food, talk about our week, and discuss the Sunday Gospel. No registration required.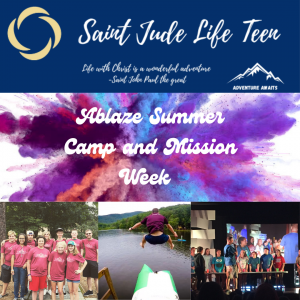 June 7 – 11, 2021 – Saint Brigid Catholic Church – Ablaze Summer Camp
We will be teaming up with Saint Brigid in Johns Creek for a week of service, messy games, obstacle courses,  music, incredible talks, and you better be ready for the Holy Spirit to do some incredible things! Monday will be a half day from 4-9pm. Tuesday-Friday will meet each morning at Saint Brigid at 10am and wrap up the night at 9pm. We want to have fun and grown in faith, but we also want to give back to the community. We will take on several service projects during the week and visit local charities. Cost is $135 per person and  includes dinner each day and a t-shirt!
July 9-10 ,2021 – Life Teen Room – Steubenville Live
We may not be able to attend the Steubenville conference in person, but we can bring the Steubenville conference to us! Join us Friday night and all day Saturday for a weekend you will never forget. We will be live streaming from Steubenville for incredible talks, Mass, Adoration, music, and more.