Steubenville Atlanta
July 9-10th, 2021
Saint Jude Youth Room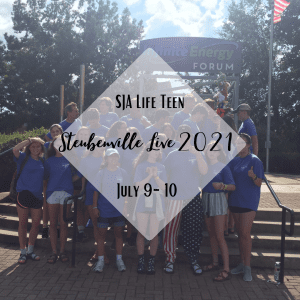 Ready to experience your faith in an entirely new way? Ready to sing and dance and have a blast? Ready to hear renowned speakers and authors come give life changing talks? Ready to have the BEST WEEKEND EVER?!
Even though we will not be able to attend the Steubenville conference in person we are going to be bringing Steubenville to us! This weekend is one of the most impactful and life changing weekends for all who attend and this year will be no different. Join us in the youth room for a weekend you will never forget.
IMPORTANT DETAILS
-We will be livestreaming from the Steubenville main campus conference in the youth room at Saint Jude. It is a 2 day event that will start on Friday, July 9th and go until Saturday, July 10th.
-Cost includes event registration and dinner on Saturday.
-More logistics information will be sent once student in registered.
Payment options:
-Cost per youth is $50.00.
-Once you register you will be directed you to the payment page to pay online.