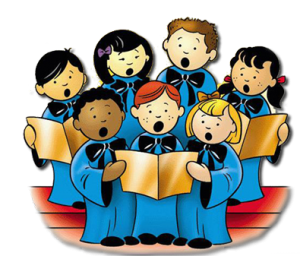 We will be offering two children's choirs during the 2018-19 school year. Our Cherub Choir is for grades 1 -2 and our Children's Choir is for grades 3-6. The choirs will sing at selected Masses during the school year. Each choir will be limited to 25 children.
A required parent information meetings will take place on Wednesday, August 22 in the Music Room (Church Basement) for each choir at their rehearsal time – 2:30 pm for the Cherub Choir and 3:45 pm for Children's Choir. At that time, we will distribute the rehearsal and performance schedules for the year.
Cherub Choir
For Grades 1-2
Rehearsals – Wednesdays 2:30 pm – 3:15 pm
Music Room (Church Basement)
Children's Choir
For Grades 3-6
Rehearsals – Wednesdays 3:45 pm – 4:45 pm
Music Room (Church Basement)
Register by submitting the form below.  Questions? Send our Director, Mrs. Desiree Stokes an email here or call her at 404-867-2126.