"PLANT THE SEED"
A Saint Jude Mission
with Mustard Seed Communities
Kingston, Jamaica
July 21-28, 2018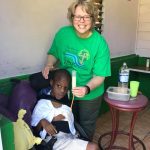 Mustard Seed Communities (MSC) cares for hundreds of children with disabilities who have been abandoned.
Our Saint Jude Plant the Seed mission team will travel to Jacob's Ladder the week of July 21-28.  This is the home of 96 disabled and orphaned young people who depend upon others to care for them.  Your donations will be used to support the children of MSC and the work our mission team will do to serve these most vulnerable people.  Your generosity may also enable the fulfillment of wish list items requested for Jacob's Ladder.
Please consider supporting our mission trip through a DONATION
Interested in going to Jamaica in July?  Please fill out the form below.