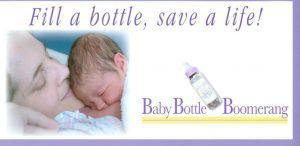 Our annual Baby Bottle Boomerang fundraiser for the Pregnancy Aid Clinic (PAC) will be held virtually. Please consider making an online donation here to benefit PAC's mission, "Promoting the sanctity of human life, as recognized in the teachings of the Roman Catholic Church." You can also mail a check to P.O. Box 92, Roswell, GA 30077, or text PACBOTTLE to 91999 for a link to donate.
PAC is the only Catholic pregnancy resource center endorsed by the Archdiocese of Atlanta. PAC offers women free pregnancy tests, ultrasounds, education, resources, and earn-as-you-learn programs. Your gift helps to support these needed programs and the women who take advantage of them. Learn more about the clinic, its services, classes, and volunteer opportunities here.
See a special story of how the Pregnancy Aid Clinic saved a child and mother.