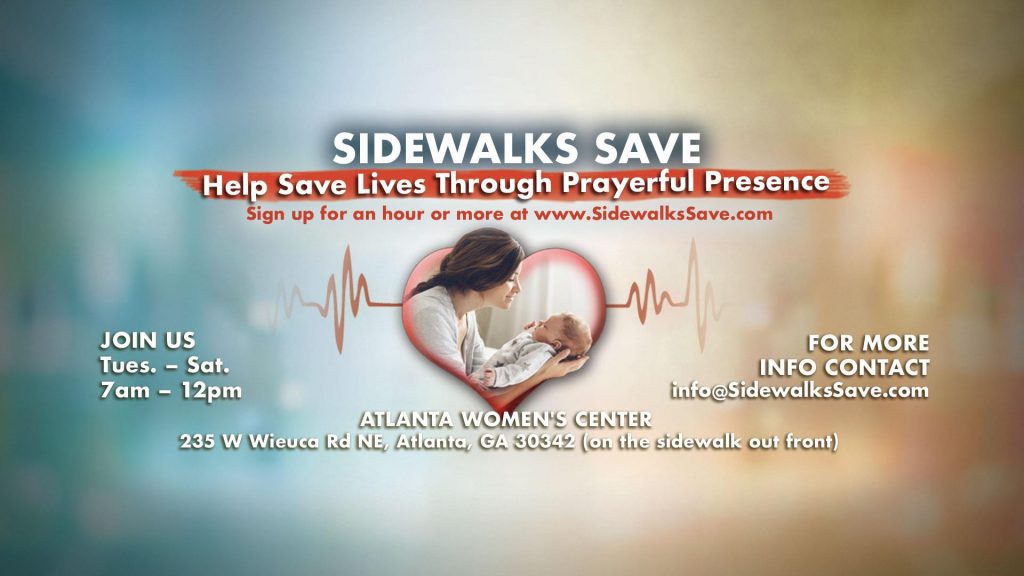 Join our Respect Life Ministry and others at Sidewalks Saves– a movement to save lives by being a prayerful presence in front of the Atlanta Women's Center abortion facility. The facility is located at 235 West Wieuca Road, Atlanta GA 30342  Your peaceful witness will help save lives, keep infant hearts beating, spare women a lifetime of regret, and send a powerful message about the tragic reality of abortion.
This continuation of the Summer For Life program will kickoff on Monday, August 24 at 9:30 am with a prayer service led by Fr. Brian Baker. You can also join us for Mass at 8:30 am that day  in the St. Mary's Chapel at Holy Spirit Catholic Church.  We will also have a prayer service and Rosary by Fr. Mark White on Saturday, August 29 at 9:00 am.  Join us for one or more of these events.  Please RSVP here.
Volunteers are needed to pray in front of the clinic Tuesdays – Saturdays from 7:00 am – 12:00 pm. You can sign up for an hour or more as your schedule allows.  Social distancing protocol will be followed. Learn more and sign up here or contact Mary Clauson at respectlife@judeatl.com or 404-435-4651.  You can also join their Facebook group here.