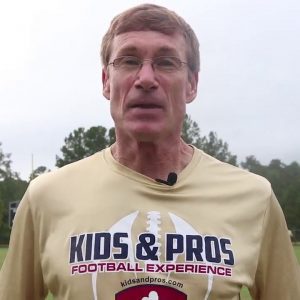 MEN'S CLUB MONTHLY MEETING AND DINNER
MONDAY, SEPTEMBER 23 – Ministry Hall
GUEST SPEAKER – BUDDY CURRY
FORMER ATLANTA FALCON AND CO-FOUNDER OF KIDS AND PROS
ONLINE RSVPs HAVE ENDED.  PLEASE JOIN US ANYWAYS!
All men of the parish are invited to the next Men's Club meeting, to be held on Monday, September 23. We are honored to have as our guest speaker Buddy Curry, former Atlanta Falcon and co-founder of Kids and Pros.  He will be speaking on "The Characteristics of a Godly Man".
The meeting will start at 6:30 pm in the Ministry Hall with socializing and dinner, followed by our speaker. We will also review our calendar of events and discuss opportunities for you to get involved. Please also join us at 6:00 pm for Mass if your schedule allows.  Donations will be taken to help defray the cost of dinner and drinks.
 Buddy Curry Bio
Buddy Curry graduated from the University of North Carolina, where he was a four-year football letterman and ACC All-Conference performer at linebacker. He joined the Atlanta Falcons in 1980 and was named NFL Defensive Rookie of the Year. Buddy played 8 seasons with the Atlanta Falcons, led the team in tackles each year, and was named team captain. Following his football career, Buddy co-founded "Kids & Pros" with his Falcon teammate Bobby Butler. They are dedicated to teaching proper football techniques, safety techniques, and life skills to pre-high school youth. At their free camps and clinics, kids from all socio-economic backgrounds come together to play as a team. The kids are coached by current and former NFL players who emphasize the importance of good sportsmanship, excellence, integrity, teamwork, and perseverance. Since 2002, Kids & Pros has positively impacted more than 57,000 young people.