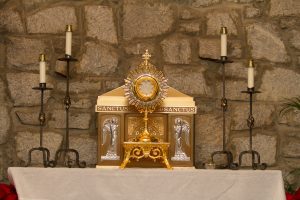 The Nocturnal Adoration Society provides an opportunity for parishioners to spend an hour on the First Friday of each month with the Blessed Sacrament in both silent and group prayer using a special prayer book. Each team meets monthly at an assigned hour. The Portuguese speaking team meets from 9:00 pm – 10:00 pm. The Spanish speaking team meets from 10:00 pm – 11:00 pm. The English speaking teams rotate from month to month from 11:00 pm until the last team finishes at 8 a.m. Saturday morning.
See the complete Team Rotation Schedule 2019
To join a team, please contact our Nocturnal Adoration Society.