Natural Family Planning (NFP) Awareness Week
Sunday, July 25 – Saturday, July 31, 2021
To Have, To Hold, To Honor
Supporting God's Gifts of Love and Life in Marriage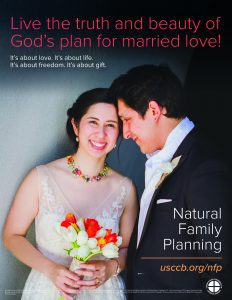 Natural Family Planning (NFP) Awareness Week is a national educational campaign of the U.S. Conference of Catholic Bishops (USCCB) on the Catholic teaching on married love and the gift of human life. NFP is the general title for the scientific, natural and moral methods of family planning that can help married couples either achieve or postpone pregnancies. The annual campaign, which began in 2002, promotes awareness of NFP methods. In addition to NFP, this month the universal church celebrates the 51st anniversary of Humanae Vitae, (July 25) Pope Paul VI's encyclical reaffirming the Church's teachings on how married couples can be faithful to God's design for married love while exercising family planning. The dates also mark the feast of Sts. Joachim and Anne (July 26), the parents of the Blessed Virgin Mary.
Understanding and Appreciating Humanae Vitae
Marriage: Love and Life in the Divine Plan
Married Love and the Gift of Life