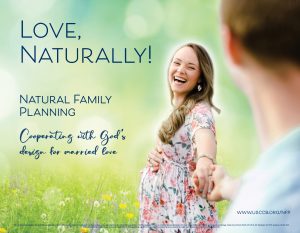 All engaged and married couples are invited to join us to learn more about Natural Family Planning (NFP).  NFP is the general title for the scientific, natural, and moral methods of family planning that can help married couples either achieve or postpone pregnancies.  We will also discuss Humanae Vitae, Pope Paul VI's encyclical on Catholic beliefs about human sexuality, conjugal love, & responsible parenthood.
Deacon Jim Tramonte will address how the splendor of married love is meant to reflect the splendor of God's love. Come learn about the church's beautiful teachings on sacramental marriage and the vocation to love as Christ loves us.  Sara Flood, BSN, RN, a certified instructor,  will give an overview of Natural Family Planning (NFP). You'll also hear the sharing of a couple who uses NFP and how it impacts their marriage and their relationship with God.
Come and get your questions answered on Wednesday, August 21 at 7:00 pm in the Ministry Hall.  Wine, cheese, soda, and desserts will be served.  Please RSVP below by Friday, August 16.