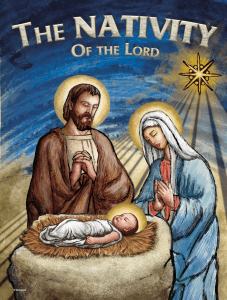 The clergy and staff of Saint Jude the Apostle Catholic Church wishes you and your loved ones every blessing and happiness this Christmas season and throughout the New Year.  Mass Schedules for Christmas and the Solemnity of Mary are listed below.  We also have changes to our schedules for Eucharistic Adoration, Confession, and parish office hours.
Christmas Masses
Christmas Eve, Tuesday, December 24
4:00 pm Mass in Church (Children's Choir & Pageant)
4:00 pm Mass in Gym
4:15 pm Mass in Ministry Hall
6:00 pm Mass in Church (Life Teen Band)
6:15 pm Mass in Ministry Hall
7:30 pm Spanish Mass in Church
10:00 pm Mass in Church (Choral Prelude at 9:30 pm)
Christmas Day, Wednesday, December 25
9:00 am Mass
12:00 pm Mass
7:00 pm Portuguese Mass in Church
Eucharistic Adoration 
Adoration of the Blessed Sacrament will be closed beginning Tuesday, December 24 through Sunday, December 29.
Eucharistic Adoration will reopen at 8:00 am on Monday, December 30 through 4:00 pm on Tuesday, December 31.
Our regular schedule begins again on Thursday, January 2, at 8:00 am.
 Confessions
We will not offer the Sacrament of Reconciliation on Wednesday, December 25 or January 1.
Solemnity of Mary Masses
Vigil Masses – Tuesday. December 31
4:00 pm Vigil Mass
7:30 pm Spanish Vigil Mass
Wednesday, January 1
9:00 am Mass
12:00 pm Mass
7:00 pm Portuguese Mass
Parish Office Closings
Sunday, December 22 – Thursday, December 26 and Tuesday, December 31 – Wednesday, January 1