Holy Week Schedule
Holy Week services will be recorded at Saint Jude and available to view according to the schedule below.
EASTER VIGIL, April 11
Easter Vigil, Multilingual Mass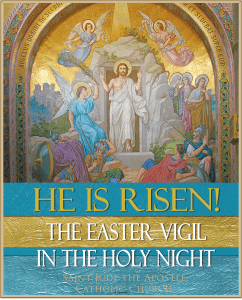 ---
EASTER SUNDAY, April 12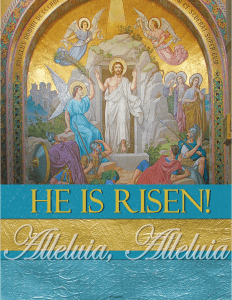 ---
THURSDAY, April 9
Mass of the Lord's Supper, Multilingual
---
GOOD FRIDAY, April 10
Stations of the Cross from Saint Jude, See Stations Booklet, The Way of the Cross
The Lord's Passion in English, Spanish, and Portuguese
Available to view now.



---
---
See explanations of Holy Week Services:
The Chrism Mass: Postponed
Holy Thursday Mass of the Lord's Supper
Good Friday, The Passion of Christ
Easter Vigil Mass
Lenten Regulations  – Fasting and Abstinence
The United States Conference of Catholic Bishops states that Catholics between the ages of 18 to 59 should practice fasting on Ash Wednesday and Good Friday. In this sense, fasting is one full meatless meal, with up to two smaller meatless meals that do not equal one full meal.  All Catholics age 14 and above should practice abstinence from meat on Ash Wednesday and all Fridays during Lent.
No Flowers in Church During Lent
During this holy season of Lent, the church and adoration chapel should be marked by simplicity. The altar and sanctuary are not to be decorated with flowers (Ceremonial of Bishops, no. 252). Please do not place flowers anywhere in the church during Lent.  This includes the altar, near the statues of the Blessed Virgin Mary and Saint Jude, or the tabernacle area.
(8371)