Signed and Sealed with the Cross
RESCHEDULED
Our Lenten Parish Mission, Signed and Sealed with Cross, originally scheduled for Monday, March 8 – Wednesday, March 10 is going to be rescheduled. Fr. Albert Haase, our mission speaker, lives in Texas and has been impacted by the recent snowstorms/power outages in that part of the country.
New dates coming soon – our mission will also be live-streamed on our YouTube Channel.
---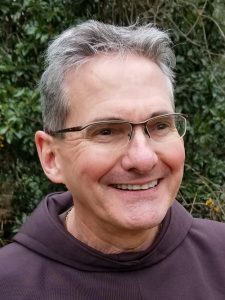 Our mission leader is Fr. Albert Haase, OFM.
Ordained a Franciscan priest in 1983, Albert Haase, OFM, is a popular preacher, teacher, spiritual director, and radio personality. A former missionary to mainland China for over eleven years, he is the author of twelve books on popular spirituality and the presenter on five bestselling DVDs. He has trained spiritual directors for ten years. He currently serves as Chaplain at Cedarbrake Catholic Retreat Center in Temple TX.
As early as the 3rd century, Christians started to sign themselves with a cross. Eighteen centuries later, we continue the practice of making the sign of the cross when we start to pray, when we celebrate the sacraments, and when we enter a church. Done so often and usually out of habit, has this ancient gesture lost its meaning for us?
Over 3 nights, Fr. Albert Haase, OFM, will lead us in a parish mission entitled SIGNED AND SEALED WITH THE CROSS. We will explore the identity of our God proclaimed in the ancient gesture of being signed with a cross. We will also explore the challenges and responsibilities we accept when we seal our lives with the sign of our salvation.
This Lent, our mission will be presented as a Liturgy of the Word, with music, readings, and the mission talk. Join us as Father Albert as we explore the implications of being Signed and Sealed with the Cross.