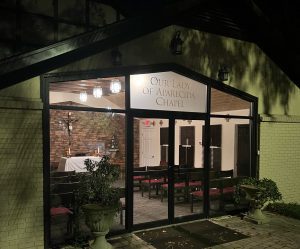 A huge thank you to everyone who supported us on Giving Tuesday! Thanks to so many of you, we can begin the process to convert Our Lady of Aparecida Chapel into a dedicated Adoration Chapel so that we can eventually move toward perpetual Adoration. As current guardians know, Adoration in the church is often met with interruption. Using a dedicated space for Adoration provides a seamless, continuous opportunity for all of us to spend personal time with our Lord. See our plans in more detail below.
THANK YOU to everyone who participated!
The iGiveCatholic site has closed but you can still donate! Just click HERE to go to our online giving page and choose "Adoration Chapel Fund". Thank you for your support!
DETAILED PLANS
As you can see from the photo above, our chapel provides little privacy, especially at night. In order to move Adoration of the Blessed Sacrament to this dedicated space, plans call for adding on a new vestibule structure to provide privacy and noise reduction as well as a place to enter without disturbing the current guardians. Plans also call for interior upgrades including new carpet, chair reupholstering, and fresh paint.
These improvements will give us the space we have needed so that we can move toward true perpetual adoration – a sacred space for you to spend time with our Lord – anytime.
To give through a Charitable Fund, please note "Adoration Chapel" in the memo line and let us know you are giving in this way so that we can reflect the amount in our goal. Thank you!