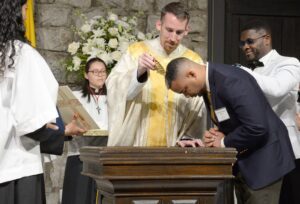 Are you interested in exploring becoming Catholic?
Or in completing your Sacraments of Initiation – First Eucharist or Confirmation?
"The Church must be a place of mercy freely given, where everyone can feel welcomed, loved, forgiven, and encouraged to live the good life of the Gospel."
― Pope Francis, The Joy of the Gospel: Evangelii Gaudium
The RCIA process includes a program of preparation, mid-September through Pentecost (50 days after Easter). Sessions focus on Scripture, teachings of the Church, prayer, and fostering a personal relationship with Christ through the community of the Church. The highlight of the journey is the reception of the Sacraments at the Easter Vigil Mass.
RCIA is for:
An adult who has never been Baptized (Catechumen) who desires to become Catholic.

The Catechumen is prepared to receive the Sacraments of Baptism, Confirmation, and Eucharist, thus becoming fully initiated as a member of the Catholic Church.

An adult who is already baptized in another Christian church (Candidate) who now seeks to enter into full communion with the Catholic Church.

We help prepare you for Reception of the Sacrament of Reconciliation, a Profession of faith, the Sacrament of Confirmation, and the reception of the Holy Eucharist.

Unbaptized children over the age of 7 years.

We help prepare you with a special program, part of RCIA, that acknowledges the child's age, experiences, and unique circumstances to prepare them to receive the Sacraments of Initiation: Baptism, Eucharist, and Confirmation.

An adult who was baptized Catholic who has not had the opportunity to celebrate the Sacrament of Eucharist and/or Confirmation.

You can prepare through our RCIA program. Another course of study may be recommended on an individual basis.
Complete the RCIA Adult Inquirer Form
Complete the RCIA Team Interest Form
For more information:
Ann Sottile,  Adult Faith Coordinator – 770-394-3896 ext. 237
Baptized Catholics who wish to complete the Sacraments of Eucharist and/or Confirmation should contact us to determine if RCIA is appropriate or if another course of study is recommended.