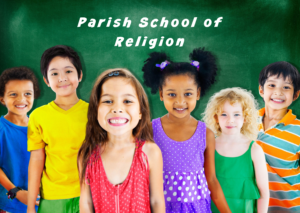 As a faith community, we are called to evangelize and catechize the young people of Saint Jude the Apostle Catholic Church. The Saint Jude Parish School of Religion (PSR) offers a variety of programs for children aged three through high school. It is our mission to spread the good news of Jesus Christ through prayer, study, and action.
Catechists are simply teachers of the faith. All you need is a heart to help educate our young parishioners! Our catechists use a set program and training is provided. To speak with our RE team about becoming a catechist, please contact Julia Acosta, 770-394-3896, ext. 527
Registration for 2023-2024 is open!
Inscrição para Catequese – Comunidade Brasileira
For information on serving as a Catechist or Teen Helper, please contact Julia Acosta.