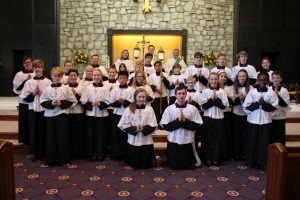 Goal:
To form a group of qualified and trained altar servers who render faithful, reverent, and meaningful service to God by assisting at the celebration of Holy Mass and other liturgical and devotional functions.
Server Qualifications:
– Registered/Active Parish Family
– Completion of Third Grade
– Recipient of the Sacraments of Baptism, Reconciliation, and Eucharist
Server Expectations
– Weekly Mass Attendance
– Regular reception of Reconciliation and Eucharist
– Ability to Recite basic prayers of the Mass
– Code of Conduct compliance & fulfill the Guild's Service Promise
– Commitment to Program by both the server and the parent
Program at a Glance:
Servers will be ranked according to knowledge, experience, and performance.

Rank progression: Apprentice, Novice, Skilled Server, Master Server
Higher ranked servers will have more responsibilities and more opportunities for serving (e.g. Weddings, Funerals)

Servers are required to attend Work, Pray, Play gatherings designed to help them:

Grow in spirituality through praying together

Grow as a community through playing together

Improve their knowledge and skills

Prove their abilities as a server

Understand the requirements for their advancement

Adult Volunteers are welcome/needed to help with the administration

Mass Coaches will work with servers before/after Mass

Trainers will help teach and evaluate the servers knowledge and skills

Organizers will be needed to help plan and implement Gatherings

Parental Support is required for servers to be successful

Read & Share all program communication, i.e. e-mail & training materials

Ensure timely arrival to assignments (20 minutes before Mass)

Obtain qualified substitutes as needed

Support of the program in general
Steps to become an Altar Server:
1st –  Attend a 1 hour Parent and Child Informational Meeting -held each spring.
2nd – Attend one, 90 minute "Show and Tell" Training Session in June, (a choice of dates)
3rd – Participate in one, 90 minute "Demonstration Day" in July (a choice of dates)
4th –  Attend our Commissioning Liturgy/Reception in August (open to all family, friends)
To find our more on our next Apprentice Class formation, contact our Altar Server Guild.