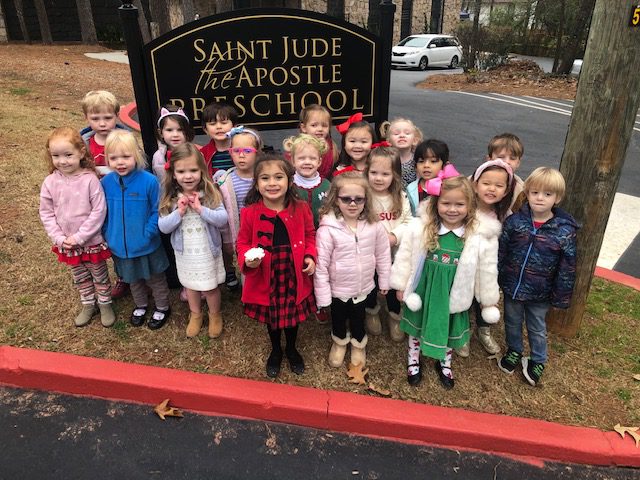 Welcome to Saint Jude The Apostle Preschool, a warm and truly loving environment for children age 16 months to 5 years. Our qualified and nurturing teachers prepare our students for Kindergarten through specialized programs in the areas of language readiness, oral language, socialization skills, number recognition, and emotional development. We use proven learning tools, such as Handwriting Without Tears and ZooPhonics, to help our students succeed. We encourage creativity, inquiry, developmental skills, and a strong moral foundation of Catholic teachings.
Our regular hours are from 9:00 a.m. – 12:30 p.m. All children bring their own lunch, as lunchtime is part of our daily routine. Children in our 3-year-old programs and older have the option of extended days through our "Stay and Play" and Enrichment programs such as "Playball" and Ballet which are offered some afternoons from 12:30 p.m. – 1:00 p.m.
We have a few special visits as enrichment supplements to our curriculum for more hands-on learning. Some of these include visits from the Fire Fighters, Magician, Mother Goose, Pediatric Dentist, and more.
Our Preschool is a Ministry of Saint Jude the Apostle Parish.  Please contact our Director,
Angela Rahn, 678-252-5981, to learn more and/or reserve a private tour.
Goals and Objectives
Help children to adapt socially to a school environment
Assist each child to feel like a member of the community
Instill in each child a love for learning
Encourage responsible behavior with choices and consequences
Stimulate the need for reading and writing
Introduce new experiences and a variety of skills
For more information about the preschool or to schedule a tour, contact Angela Rahn (678) 252-5981.