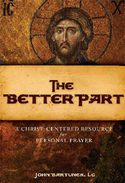 Fridays (held year-round)
Optional Rosary 6:10-6:30 am
Reflection and Breaking Open the Word: 6:30 -7:30 am
Stapleton Center (lower level of the church building)
No cost or registration required
The Word of God and the fellowship of Saint Jude men combine for an informal discussion of the upcoming Sunday Gospel. Each Friday morning, passages are shared from "The Better Part", by Fr. John Bartunek as a guide in breaking open and reflecting on God's message. All men are encouraged to bring a cup of coffee and join in the conversation.
Contact us here with any questions.