The Saint Jude Preschool Parent Organization (PPO) promotes and enriches the preschool experience through the active support of its staff and preschoolers. A resource for every parent, the PPO provides information and opportunities to contribute through parent meetings, family events, volunteering, and fundraisers.
For Jack-n-Me!
Every preschool parent is a member of the PPO and is encouraged to bring questions, comments, and ideas to meetings and upcoming events.
For the 2018-19 school year, the PPO Chairperson is Liza Nordmark. Please send her an email if you have any questions about the organization.
The PPO includes ten committees that focus on different events or outreach efforts throughout the year:
Back-to-School Playdate
Beautification
Community Charity
Family Outreach
Family Dinner Night Outs
Fundraising
Lenten Bake Sales
Scholastic Book Fairs
Social – Christmas Story Night, Jack-n-Me Night, Muffins with Mom, and Donuts with Dad
Teacher Appreciation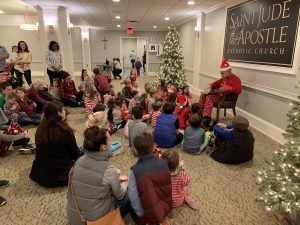 Christmas Story Night with Deacon Gary!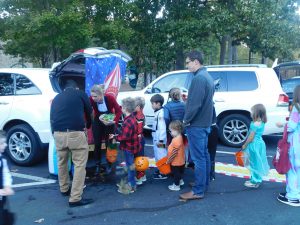 Annual Halloween Trunk and Treat