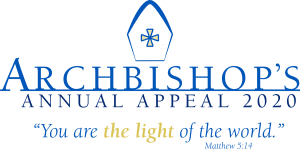 Our Parish Goal: $265, 600
Amount received: $249.075
If you pledged to the 2020 Archbishop's Annual Appeal back in February of 2020 and have not yet fulfilled your pledge, please consider sending it in now. Our parish's goal this year is $265,600. To date, the Archdiocese has received $249,075 toward our goal. Our parish is required to pay any deficit out of our operating funds. It has been a hard year, but if you can send in your pledge, please click below and make sure to list Saint Jude as your parish. 
MAKE A PLEDGE OR DONATE NOW   (Please be sure to select Saint Jude the Apostle in the designation box)
Our Archdiocese asks us each year to prayerfully consider giving to the Archdiocese Annual Appeal. It is through this Appeal that countless people are supported in the many ministries of our Archdiocese, including seminarian and diaconate education and priest retirement care, as well as the Archdiocesan respect life, prison, disabilities, peace and justice, and hospital ministries. This appeal supports campus ministries at our colleges, religious education in our parishes, marriage and family ministries, as well as refugee and immigration services, veteran's care, and English language education. As you can see, our Archdiocese is busy at work spreading Christ's love around northern Georgia. But, they can only help spread that love with your support and donations. Saint Jude has always risen to our responsibility for the call. This year, our parish goal is $265,600.  Our Archdiocese is working hard to spread Christ's love to our neighbors– will you help?