Monday, December 24, 2018 – 4:00 pm Mass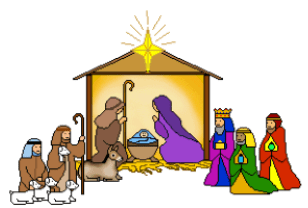 Thank you for your interest in our Christmas Pageant! Registration is now closed. We look forward to our Children's Mass on Christmas Eve!
Children in Grades K-5  are invited to participate in our annual Christmas Eve Pageant at the 4:00 pm Christmas Eve Mass in the Church.  Our pageant will bring the Christmas story to life!
Rehearsals will be held:
Thursday, December 13 – 7:00 pm – 8:00 pm (Main Roles Only)
Tuesday, December 18 – 6:30 pm – 8:00 pm (All Children)
Sunday, December 23 – 2:00 pm – 3:00 pm (Dress Rehearsal – All Children)
A parent must be present with child for entire rehearsal times in order to participate. Cast may be limited to number of costumes. Please fill out the form below by November 30 to register. Questions? Please email Julia Acosta or call 770-394-3896, ext. 527