Prepare Ye the Way – But How?
Shifting from Hostility to Hospitality

Monday and Tuesday, November 14-15 from 7:00 – 8:00 pm
---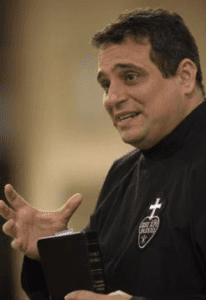 Come join us as we welcome Father Enzo Del Brocco.
Fr. Enzo Del Brocco is a priest of the Congregation of the Passion of Jesus Christ, also known as the Passionists. He is a well-known preacher who has traveled the world with his ministry.
Fr. Enzo holds degrees in Moral Theology and Human Resources and is currently working toward his Ph.D. in Healthcare ethics. Having spent many years ministering to the poor and disabled around the world, including five years in Haiti following the devastating Hurricane of 2016, he has many stories to share with us as we focus on preparing to celebrate the humble birth of our Savior.
(See more about Fr. Enzo's background below)
Nightly Themes:
Monday Night: Finding your Good Samaritan – taking a deeper look within.
Tuesday Night: Preparing for our Judgement – are you a sheep or a goat?
A message from Father Enzo…
More about Father Enzo…
Fr. Enzo Del Brocco is a Passionist missionary. He was born in Pittsburgh (PA) in 1969. In 1980 his family moved to Italy. He studied Philosophy and Theology at the Pontificio Ateneo Antonianum in Rome and was ordained a Priest in 1996. He has a Master's degree in Moral Theology (1999), in Human Resources (2010), a certification in Catholic Bioethics (2018), and is currently a Healthcare Ph.D. candidate at Duquesne University. He has held various positions within the Passionist order serving for 8 years as Secretary to the Superior General (2000-2007), for two terms as Provincial Superior of the Passionists in Italy and Brazil (2007-2013), and currently as Vice Provincial of St. Paul of the Cross Province (Eastern USA, Canada, Puerto Rico, Jamaica, and Haiti).
He traveled to several countries in Europe, Asia, Latina America, and Africa serving the Congregation and he is fluent in six languages (English, Italian, Spanish, Portuguese, french, and creole).  He is a well-known preacher and has given several retreats and workshops in English, Italian, Spanish and Portuguese. During his time as Provincial Superior in Italy, he worked with the Community of S. Egidio in one of the peripheries of Naples with the disabled and marginalized. In January 2014 he joined Fr. Rick Frechette, founder of the St. Luke Foundation, in Haiti and worked with the marginalized in the slums of Cite Soleil, serving as chaplain of the St. Luke hospital and doing pastoral outreach and towards the remote areas of the country.  He has been particularly involved in hurricane relief in the Province of Jeremie (Dame Marie and Abricot),  where Hurricane Matthew caused major damages in 2016, and was also involved in the recent 2021 earthquake relief in Haiti.