"Make disciples of all nations, baptizing them in the name of the Father, and of the Son, and of the Holy Spirit, teaching them to observe all that I have commanded you"
— Matthew 28:19-20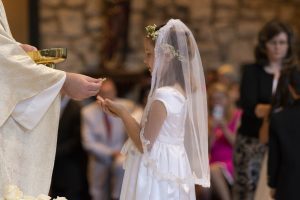 Traditionally, students receive the Sacrament of the Eucharist and Reconciliation in the Second grade. Second-grade students whose families are registered parishioners are eligible to receive the Sacrament of First Eucharist at Saint Jude based upon the following requirements: They are baptized and have had religious education in First grade either through a Catholic school, a Parish Religious Education program or an approved Home School program.
During their second grade year, students need to participate in a religious education class or be enrolled in a Catholic school. In addition, the students will participate in a Catholic religious education class during the preparation year. Students and parents will also be required to attend two special retreats that enhance the faith formation process. Click here for registration information for 2nd grade students.
If your child does not meet the necessary requirements, we have a special sacramental preparation class for them; please contact Julia Acosta.
For children over the age of 7 who have not received this sacrament, please contact Julia Acosta.
Adults who have not received this sacrament can participate in our Rite of Christian Initiation (RCIA) program. Click here for information on RCIA.