"Make disciples of all nations, baptizing them in the name of the Father, and of the Son, and of the Holy Spirit, teaching them to observe all that I have commanded you"
— Matthew 28:19-20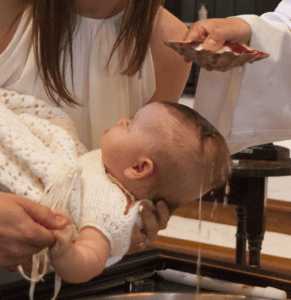 For information about baptisms at Saint Jude, please begin by reviewing our Baptism Procedures. If you have any questions or need additional information, please contact Norma Alexander, 770-394-3896 ext. 525.
Baptismal Preparation for Children over the age of 7 years
For unbaptized children over the age of 7 years, a special program that acknowledges the child's age, experiences, and unique circumstances is offered to prepare them to receive the Sacraments of Initiation: Baptism, Eucharist, and Confirmation, at the Easter Vigil with members of the Rite of Christian Initiation of Adults (RCIA) group. Please contact – Ann Sottile to learn more.