"Therefore, confess your sins to one another and pray for one another, that you may be healed. The fervent prayer of a righteous person is very powerful." James 5:16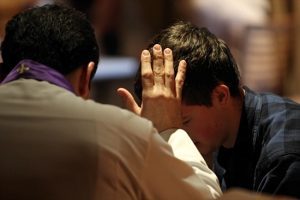 The Sacrament of Reconciliation (Confession) is one of the most unique and beautiful aspects of Catholicism. Jesus Christ, in His abundant love and mercy, established the Sacrament of Confession, so that we as sinners can obtain forgiveness for our sins and reconcile with God and the Church. The sacrament "washes us clean," and renews us in Christ.
Confession is available on the following days and times in the vestibule of the church.
Wednesdays: 8:00 am and 6:30 pm
Saturdays: 9:00 am or 4:00 pm
Sundays 12:00 pm (Spanish)
Sundays: 6:00 pm (Portuguese)
First Friday 6:00 pm (Portuguese)

To make an appointment for another time, please call the parish office at 770-394-3896.