Alive in You Summer Mission Trip
June 28-July 2nd, 2022
Knoxville, TN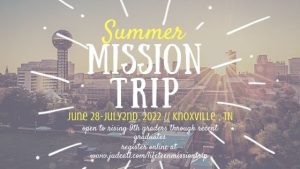 ABOUT ALIVE IN YOU MISSION TRIPS
All rising 9th grade and recently graduated students are invited to join Saint Jude Life Teen as we attend Alive in You's Summer Mission Trip to Knoxville, TN.

This mission trip is unique in that it is part service work/ part conference. Participants will work on a service project in the morning/afternoon and then come back to a fun and uplifting conference with trained speakers, games, competitions, live music and more.
Participants will also be able to participate in the Sacraments each day with optional Daily Mass, Adoration, Reconciliation, and time in small groups.
This is an amazing where teens get to help others, grow in their faith, meet new friends from difference states, foster lasting friendships with those from their parish and have fun! There are themed dinners for teens to dress up and have a chance to win "Best Dressed" each night. Last year we had a winner from our parish each night!
For more information about Alive in You CLICK HERE 
IMPORTANT DETAILS
The cost of the trip covers registration, all transportation, free day money, food on the way up and back, t-shirt, and costs for the camp (food,lodging, etc)
Saint Jude will be providing transportation to and from Knoxville, TN, to and from worksites, to and from free day activity (TBD)
Participants will be residing in a school for the week, sleeping in classrooms. Air Mattresses are highly suggested since we will be sleeping on the floor!
There will be over 300 students in attendance along with our parish
All other logistic information will be emailed to family once registered!