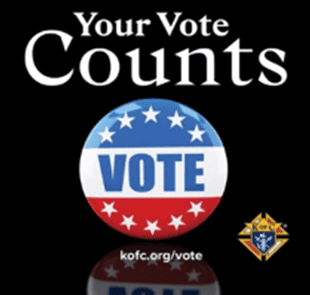 Election Day is Tuesday, November 2 and includes municipal elections and Education and Transportation SPLOST votes.  Key dates include:
Voter Registration Deadline: October 2
Early Voting Period: October 12-29
Last day to request absentee ballot: October 22
There is a new absentee ballot application this year, requiring voters to include their Driver's License number, Georgia ID number or other form of identification.  For information on how to obtain an absentee ballot, documentation requirements, registration deadlines, voting hours and polling locations, please visit your county's voting and election website.
Cobb County Elections and Voter Registration Website
Dekalb County Voter Registration and Elections Website
Fulton County Elections and Registration Website
Our Knights of Columbus Council will have tables outside after all Masses on the weekend of  October 9-10  for a Get Out the Vote initiative to register new voters for the 2022 election.