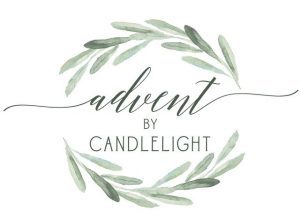 Thursday, December 9th at 7:00 PM
Mary Martha Circle is hosting its third annual "Advent by Candlelight", a special evening designed for women of the parish.  During this beautiful evening, we will gather for dinner and take a break from the business of the season.
Musicians, Ashley Dean and James Perkins of Onward and Upward will provide an Advent musical reflection designed to renew, refresh, and refocus us on the season of Advent. Registration opens to members of the Mary Martha circle on November 11, 2021, and to all women of the parish on November 29th.
Your $10 fee support Mary Marth's charitable cause for the year, Wellspring Living – an organization that transforms the lives of those at risk or victimized by sexual exploitation.
Our Advent by Candlelight is full. To join our waiting list, please email Lourdes Davis.