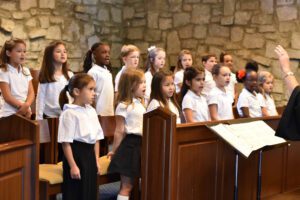 All children in grades 1-6 are invited to participate! 
Our Cherub Choir is for grades 1-2 and our Youth Choir is for grades 3-6.  Rehearsals are on Wednesday afternoons beginning August 24, 2022.
Cherub Choir: Rehearsal Wednesdays 2:45-3:30 pm
Youth Choir: Rehearsal Wednesdays 3:45-4:45 pm
Each choir is limited to 25, so register now! To join us, please complete the form below. Questions can be directed to our Choir Director Desiree Stokes.