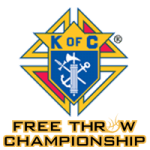 It's just you. . .the ball. . .and a net.Our Knights of Columbus Council 16513 held its third annual free throw shooting competition on Sunday, January 13, at the gymnasium. 17 boys and girls ages 9 through 14 competed for the chance to move on and compete against kids from other local parishes. Seven competitors will advance to the district competition. Those advancing are:
9 Year Old: John Bombara
10 Year Old: Patrick Wood
11 Year Old: Tyler Navarro
12 Year Old: Griffen Uebelacker
13 Year Old: Gerard Altarejos
14 Year Old: Eric Winkler & Caoimhina Sloan
We wish to thank the Jaguar Sports Association, particularly Mrs. Patricia Marmion, for assistance in scheduling the gym as well as providing the necessary sports equipment.