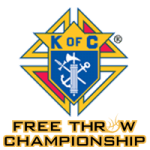 Sunday, January 12, 11:00 – 3:00 pm in the Gym
All boys and girls ages 9 to 14 as of January 1, 2020, are invited to participate in the local level of competition for the 2020 Knights of Columbus Free Throw Championship. The event will be held on Sunday, January 12 from 11:00 am – 3:00 pm in the gym.  It is sponsored by our parish Knights of Columbus Council 16513. Last year more than 120,000 sharpshooters participated in over 3,600 local competitions. Winners will advance to the district competition later in the year. Participants are required to give proof of age and written parental consent.
Online signup has ended. Please register on site the day of the event.  Don't forget proof of age!