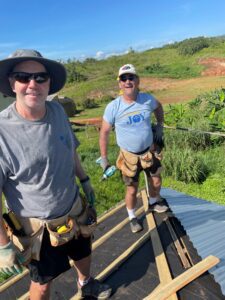 Join us on a Men's Mission Trip to Jacob's Ladder
Saturday, February 4- Saturday, February 11, 2023
Information Meeting: Wednesday, December 7, 6:00 pm Room 233
Bob Lehrer of Bob's Builders will be at the meeting.
Spend the week using your light construction, repair, painting, and building skills to benefit Mustard Seed's community in Jamaica. There is work for all skill levels. No experience is required.
This year's build includes a kitchen, laundry, re-roofing, reflective insulation, gutters, a door ramp, painting, tile work, and other various maintenance tasks. Our missionary team will work with an experienced team called Bob's Builders who organize and lead the effort.
Interested? To find out more – please contact Mike Higgins.