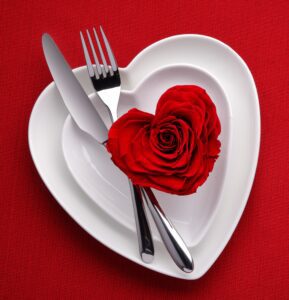 VALENTINE'S DINNER,  MASS AND ROSARY
SATURDAY, FEBRUARY 11, 2023
ONLINE RSVPS HAVE ENDED.  WE LOOK FORWARD TO SEEING THOSE OF YOU WHO HAVE SIGNED UP AT THE EVENT.
Join us to renew your wedding vows and enjoy an evening out with drinks and dinner catered by Maggiano's Little Italy. Dale Brewer, a licensed professional counselor at Holy Family Counseling Center, will offer his approach on how to cultivate love, nurture vulnerability, and forge lasting support in a relationship – a Catholic perspective to help couples realize that Christ has a desire for us to have a deeper, more fulfilling relationship than what we believe is possible.
4:30 pm: Rosary in the Church prayed for the intentions of married couples
5:00 pm: Mass & Vow Renewal
6:00 pm: Drinks, dinner, and speaker in Ministry Hall