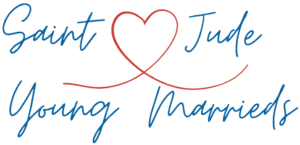 Our ministry brings young couples together to form a community that fosters strong marriages and active faith through relevant discussion, social activities, and acts of service.
Please join us on Friday, February 17 at 7:00 pm in the Life Teen Room.  We will discuss the sacraments of the Eucharist. Please bring an appetizer or dessert to share and it's BYOB.  No RSVP is needed!
We look forward to our next gathering! Our tentative schedule is below. Look for more details closer to each meeting date. Questions? Contact our Young Married Ministry.
September 16, 2022 – Kick-Off Meeting: Praying as a couple
October 21, 2022 – Types of Prayer (Rosary, Liturgy of the Hours, Scripture, resources, etc.)
November 18, 2022 – Service Project
December 16, 2022 – Saint Jude Christmas concert followed by Dunwoody Tavern
January 20, 2023 – Marriage/Parents and the Sacraments (Baptism and Confirmation)
February 17, 2023 – Sacrament of the Eucharist
March 24, 2023 – Stations of the Cross and Fish Fry
April 21, 2023 – Confession – back to the basics.
May 19, 2023 – Marriage/Holy Orders (How to promote vocations)
Young Marrieds RSVP Form
"*" indicates required fields