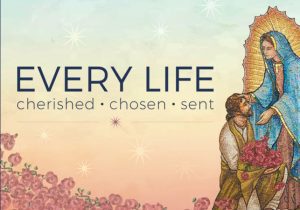 On Tuesday, January 22, our nation will mark the 46th anniversary of Roe v. Wade, the Supreme Court decision that made abortion legal throughout the United States. Parish events, Archdiocesan events and USCCB resources include:
Nine Days for Life
Begins Monday, January 14
Our Respect Life Ministry and our Knights of Columbus Council invite you to join Catholics in the United States and pray for the end of abortion. The U.S. bishops annual novena 9 Days for Life takes place Monday, January 14 – Tuesday, January 22. Pray for the respect and protection of all human life with new intentions, brief reflections, and more each day. Download the novena online, or receive via email, or text message or download the free mobile app. Learn more and sign up here.
Knights of Columbus Monthly Family Rosary
Sunday, January 20
Join our Knights of Columbus Council on Sunday, January 20 after the 10:00 am Mass for the monthly family Rosary. This month, we will be praying for the sanctity of human life, for expectant mothers and their families, and for healing for those who have been impacted by abortion.
Parish  Stand for Life Event
Tuesday, January 22
You are invited to join our Respect Life ministry in silent prayer and witness for the legal protection of the unborn on Tuesday, January 22 for our 2nd annual   parish Stand for Life event. We will meet at 4:15 pm in front of the church on the corner of Spalding Drive and Glenridge Drive and stand  until 5:30 pm. Signs will be provided.  Please also join us for 6:00 pm Mass after the event.
30th Annual Mass for the Unborn
Monday, January 28
The annual Mass for the Unborn will be on Monday January 28 at 10:00 am at the Cathedral of Christ the King.  Archbishop Gregory will be the celebrant.  Msgr. Frank McNamee will pray the Rosary at 9:30 am. Following the Mass, all are invited to Stand for Life on the sidewalk along Peachtree Road from 11:30 am – 12:00 pm.