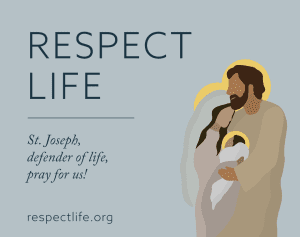 On Saturday, January 22, our nation will mark the 48th anniversary of Roe v. Wade, the Supreme Court decision that made abortion legal throughout the United States.  Parish events, Archdiocesan events and USCCB resources include:
Adoration Holy Hour for Life
Mondays – 1:00 -2:00 pm
We lead a weekly Adoration Holy Hour for Life on Mondays from 1:00 – 2:00 pm in the Tabernacle area of the church.  The hour will begin with a Rosary for life, followed by quiet prayer.  Please join us each week as your schedule allows.  Learn more here.
Virtual Holy Hour for Life
Mondays – 2:15 pm
Please join us virtually on Mondays to adore God and pray for every life to be loved, treasured, and defended.  Each week, we will pray the Rosary for Life, followed by a brief reflection, and then pray a Divine Mercy Chaplet.  Access the Zoom link here.
Sidewalk Saves
Join our ministry and others at Sidewalks Saves– a movement to save lives by being a prayerful presence in front of the Atlanta Women's Center abortion facility. Volunteers are needed to pray in front of the clinic Tuesdays – Saturdays from 7:00 am – 12:00 pm. You can sign up for an hour or more as your schedule allows. Learn more and sign up here.
Walking with Moms in Need (WWMIN)
Walking With Moms in Need (WWMIN) is a service ministry that guides mothers facing challenging pregnancies and those parenting young children in need, towards services and resources available and to welcome and surround them with our love. Learn how you can get involved here.
Nine Days for Life Begins Wednesday, January 19
Our Respect Life Ministry and our Knights of Columbus Council invite you to join Catholics in the United States and pray for the end of abortion. The U.S. bishop's annual novena 9 Days for Life takes place Wednesday, January 19 – Thursday, January 27. Pray for the respect and protection of all human life with new intentions, brief reflections, and more each day. Download the novena online, or receive it via email or text message. Learn more and sign up here.
30th Annual Mass for the Unborn 
Friday, January 21, 10:00 am
The annual Mass for the Unborn will be on Friday, January 21 at 10:00 am at the Cathedral of Christ the King. Archbishop Hartmayer will celebrate the Mass.  Following the Mass will there will be a Youth Rally for Life for students in grades 8-12.  Please register for the rally by emailing jmartineck@archatl.com
Parish Stand for Life Event and Mass 
Saturday, January 22, 4:00 – 5:00 pm
You are invited to join our Respect Life ministry in silent prayer and witness for the legal protection of the unborn for our 4th annual parish Stand for Life event on the corner of Spalding Drive and Glenridge Drive. Signs will be provided.  Please also join us for the 5:30 pm Vigil Mass. A Rosary for Life led by Knights of
Columbus will be prayed after Mass.