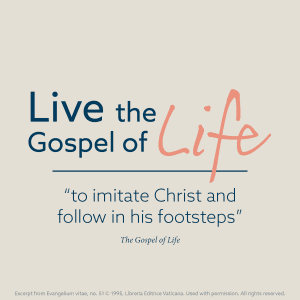 On Friday, January 22, 2021, our nation will mark the 48th anniversary of Roe v. Wade, the Supreme Court decision that made abortion legal throughout the United States. Parish events, Archdiocesan events, and USCCB resources include:
Parish Stand for Life Event and Mass 
Friday, January 22
See photos from the event here! 


Adoration Holy Hour for Life
Mondays – 1:00 -2:00 pm
We lead a weekly Adoration Holy Hour for Life on Mondays from 1:00 – 2:00 pm in the Tabernacle area of the church.  The hour will begin with a Rosary for life, followed by quiet prayer.  Please join us each week as your schedule allows.  Learn more here.
Virtual Holy Hour for Life
Mondays – 2:15 pm
Please join us virtually on Mondays to adore God and pray for every life to be loved, treasured, and defended.  Each week, we will pray the Rosary for Life, followed by a brief reflection, and then pray a Divine Mercy Chaplet.  Access the Zoom link here.
Sidewalk Saves
Join our ministry and others at Sidewalks Saves– a movement to save lives by being a prayerful presence in front of the Atlanta Women's Center abortion facility. Volunteers are needed to pray in front of the clinic Tuesdays – Saturdays from 7:00 am – 12:00 pm. You can sign up for an hour or more as your schedule allows. Learn more and sign up here.
USCCB Inauguration Statement
Statement on the Inauguration of Joseph R. Biden, Jr., as 46th President of the United States of America from Most Reverend José H. Gomez, Archbishop of Los Angeles, President, United States Conference of Catholic Bishops.  Read it here.
Nine Days for LifeBegins Thursday, January 21
Our Respect Life Ministry and our Knights of Columbus Council invite you to join Catholics in the United States and pray for the end of abortion. The U.S. bishop's annual novena 9 Days for Life takes place Thursday, January 21 – Friday, January 29. Pray for the respect and protection of all human life with new intentions, brief reflections, and more each day. Download the novena online, or receive it via email, or text message or download the free mobile app. Learn more and sign up here.
Annual Mass for the Unborn – Virtual
Friday, January 22
The annual Mass for the Unborn will be held virtually on Friday, January 22  at 12:00 pm. Archbishop Hartmayer will celebrate the Mass.  See the Mass here.
Georgia Right to Life March
Friday, January 22
The 2021 Georgia March for Life and Memorial Service will take place on Friday, January 22 at Atlanta's Liberty Plaza, across from the State Capitol at 11:45 am.
Parish Stand for Life Event and Mass 
Friday, January 22
You are invited to join us in silent prayer and witness for the legal protection of the unborn on Friday, January 22 for our 4th annual parish Stand for Life event. We will meet at 4:15 pm in front of the church on the corner of Spalding Drive and Glenridge Drive and stand until 5:30 pm. Signs will be provided.  A special Mass and Rosary (led by Knights of Columbus) will follow immediately after the event. Masks required and social distancing observed.