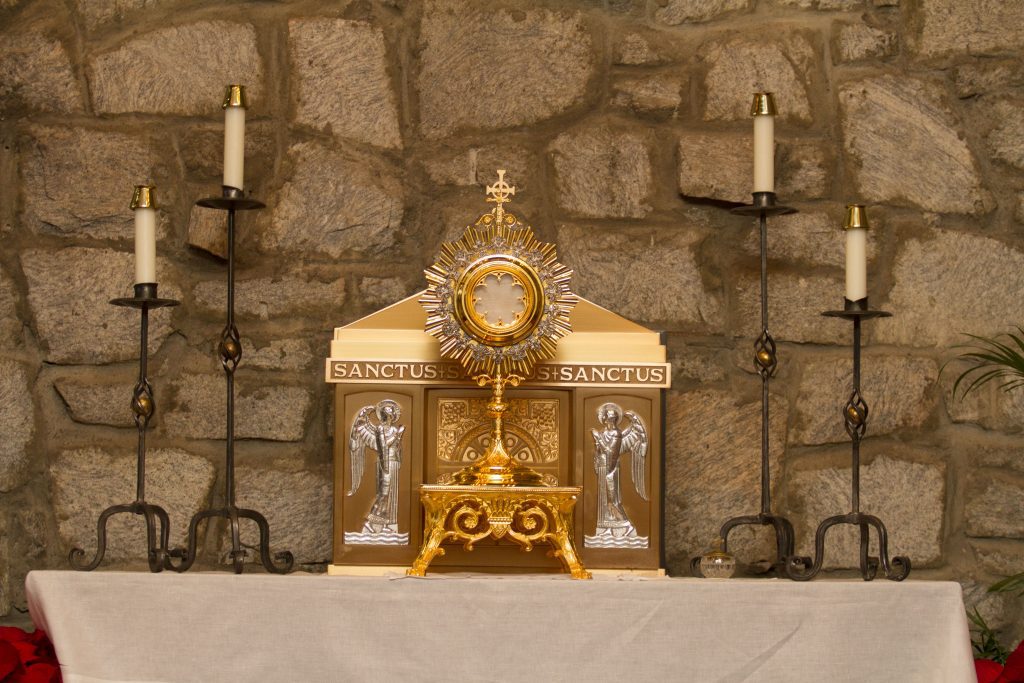 "The only time our Lord asked the Apostles for anything was the night He went into agony. Not for activity did He plead, but for an hour of companionship."
Venerable Fulton J. Sheen
EUCHARISTIC ADORATION HOURS
Mondays: 8:00 am – 12:00 pm and 1:00 pm – 10:00 pm
Tuesdays: 8:00 am – 12:00 pm and 1:00 pm – 12:00 am
Wednesdays: 12:00 am – 12:00 pm
Thursdays: 8:00 am – 12:00 pm and 1:00 pm -12:00 am
Fridays: 12:00 am – 7:30 am and 1:00 pm – 12:00 am
Saturdays: 12:00 am – 8:30 am
We have an immediate need for guardians on Wednesdays at 1:00 am and Fridays at 9:00 pm.
Overnight guardians will be provided with a key card to enter the church. Only scheduled guardians may enter the church between the hours of 10:00 pm and 7:00 am. During those hours, all church doors are locked. There is plenty of room for guardians to space themselves apart in the tabernacle area. If you are more comfortable, please feel free to sit in the front pews of the main Church. A minimum of two scheduled guardians is needed each hour.
ADORATION GUIDELINES FOR GUARDIANS (English)
DIRETRIZES PARA ADORAÇÃO EUCARÍSTICA (Português)
Sign up or Sign In for your Holy Hour here.
Display our Saint Jude Monstrance During Your Home Adoration Hour
Please contact our Adoration Team with any questions.
---
Learn more about Adoration with these articles and videos:
Questions about Eucharistic Adoration? Please contact our Adoration Team.