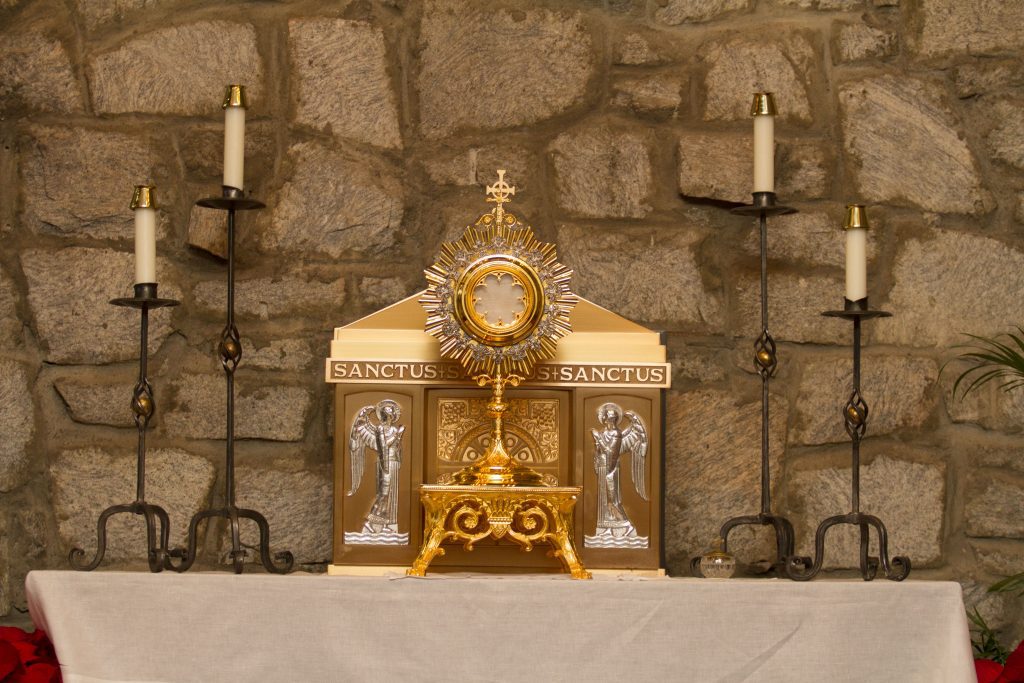 "The only time our Lord asked the Apostles for anything was the night He went into agony. Not for activity did He plead, but for an hour of companionship."
Venerable Fulton J. Sheen
On the Feast of Corpus Christi, Archbishop Hartmayer called for our archdiocese to enter a new period of
Eucharistic Renewal for the sake of advancing a new phase of evangelization. This will be a multi-year effort, including steps and resources anticipated from the United States Conference of Catholic Bishops in the coming months. Jesus' invitation "Come to Me" (Mt 11:28) will be our guiding theme.
Learn more about this initiative and view a video featuring Archbishop Hartmayer here.
Thanksgiving Week Schedule Changes
No Eucharistic Adoration: Wednesday,  November 24 – Friday, November 26
Resumes 8:00 am on Monday, November 29
EUCHARISTIC ADORATION HOURS
Monday and Tuesday: 8:00 am – 12:00 pm (last hour begins at 11:00 am) and 1:00 pm – 10:00 pm (last hour begins at 9:00 pm)
Wednesdays: 8:00 am – 12:00 pm (last hour begins at 11:00 am)
Thursdays: 8:00 am – 12:00 pm (last hour begins at 11:00 am) and 1:00 pm – 7:30 am Friday
Friday: 1:00 pm – 8:00 am Saturday
Overnight guardians will be provided with a key card to enter the church. Only scheduled guardians may enter the church between the hours of 10:00 pm and 7:00 am. During those hours, all church doors are locked. There is plenty of room for guardians to space themselves apart in the tabernacle area.  If you are more comfortable, please feel free to sit in the front pews of the main Church. A minimum of two scheduled guardians is needed each hour. Masks are only required for those who have not been vaccinated.
ADORATION GUIDELINES FOR GUARDIANS
Sign up or Sign In for your Holy Hour here.
Display our Saint Jude Monstrance During Your Home Adoration Hour
 Please contact our Adoration Team with any questions.
---
Learn more about Adoration with these articles and videos:
Questions about Eucharistic Adoration? Please contact our Adoration Team.