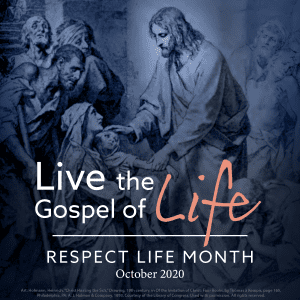 Each October the Church in the United States celebrates Respect Life Month, and the first Sunday of October is observed as Respect Life Sunday. As Catholics, we are called to cherish, defend, and protect those who are most vulnerable, from the beginning of life to its end, and at every point in between. During the month of October, the Church asks us to reflect more deeply on the dignity of every human life.  This year's theme is Live the Gospel of Life.  Our Respect Life Ministry participates in a number of activities during this time.  We invite you to join us for one or all of the following:
​
Adoration Holy Hour for Life  – Mondays
Our Respect Life Ministry leads a weekly Adoration Holy Hour for Life from  1:00 – 2:00 pm in the Ministry Hall.  The hour begins with a Rosary for Life, followed by quiet prayer.  If you would like to be a substitute  guardian for this hour, please send an email to Nancy Jackson.  A Virtual Pro-Life Holy Hour is also celebrated on Mondays at 2:15 pm. Learn more here.
40 Days for Life Prayer Vigil – Sidewalk Saves
40 Days for Life is an internationally coordinated 40-day campaign that aims to end abortion locally through prayer and fasting, community outreach, and peaceful all-day vigil in front of abortion businesses. This year's event begins on Wednesday, September 23 and continues through Sunday, November 1. Learn more about the 40 Days for Life Campaign here.
Our ministry participates in this prayer vigil through the Sidewalks Saves program.  Volunteers are needed to pray in front of the Atlanta Women's Clinic on West Wieuca Road on Tuesdays – Saturdays from 7:30 am – 11:00 am. You can sign up for an hour or more as your schedule allows.  Learn more and sign up here.
Stand for Life – Date TBA
You are invited to join our ministry in silent prayer and witness for the legal protection of  We will meet at 4:30 pm in front of the church on the corner of Spalding Drive and Glenridge Drive and stand until 5:30 pm. Signs will be provided or you can bring your own. Please join us praying for the sanctity of human life at all stages, for expectant mothers and their families, for the elderly and vulnerable, and for healing for those who have been impacted by abortion. The date for the 2021 Stand for Life has not yet been finalized.
For more information about our Respect Life Ministry, please send an email to Nancy Jackson
For more information on Respect Life Month, visit the USCCB website or the Archdiocese of Atlanta website.